Moving Day by Whimsy Winx, on Flickr
Hi everyone. So my mailbox is fixed, and I've got a proper Linden Home again. Now, comes the fun part, deciding which home style I like, and getting my furniture in.  This has been pretty difficult. I'm leaning very heavily on the Winchester, and currently moving into that one for now.
The biggest issue I see is how to divvy up enough LI for the space so I can have a bit of everything I think I need. I'm very sure I want a kitchen, living room, dining, and outdoor recreation. It's the upstairs bedroom that is conflicting me, I would like a bedroom as well as a work room which I can use it for both.
Window Treatment by Whimsy Winx, on Flickr
Initially I decided since I had 5 areas to decorate I would evenly assign LI to each space with a starting point of about 70 LI per space. Seemed simple enough, if I was happy with an area that was still under 70 LI I could reassign additional LI elsewhere or keep as I might want to spawn cars as needed.
This is actually quite a challenge for me considering I've lived with nearly whole sims to rez out as much as I please for 10 years. I've already started installing a kitchen, and plan on working it out from there.
Coffee Break by Whimsy Winx, on Flickr
The Lindens keep teasing us with news that more homes are coming soon. I've been watching the map and they certainly are making progress. They've also updated to include security orbs, as when they went live the ban lines were ugly and as you can imagine, that just ruined the esthetics here quick. So the solution was to feature security orbs, and there are quite a few rules for them as we don't want to suddenly find ourselves returned home from the street on a bike ride, or sent home when flying over (personal aircraft are quite popular here). So that should help at least keep my hot tub clean. For more information about the security orbs check the forum announcement from Patch Linden here.
You kids get off my lawn by Whimsy Winx, on Flickr
Also, shout out to my fellow neighbors on Bellisseria – keep it weird. The random t-rex, the police chases, broken down buses..ya'll make my day. But stay out of my hot tub.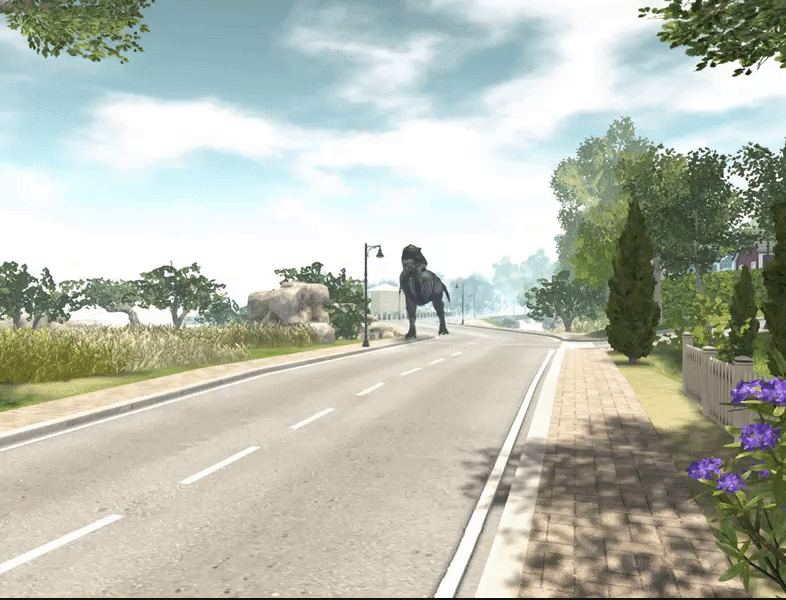 Worn in all:
Body: Slink – Hourglass
Head: LeLutka – Chloe
Skin: DeeTaleZ – Mina – MixedType
Eyes: Euphoric – Enigma Eyes – Ice
Nails: Empire – Almond Nails – Short
Curtains:
Hair: DP YumYum – Hair Fair (Gift 2016)
Top: The Secret Store – Hazel Tank Top – Mint Leaf
Bottom: The Secret Store – Cora Belted Shorts – Mint Leaf
Items: Soy, Minimal, Dust Bunny, Malone, Fashionably Dead, Second Spaces, YS*YS, Jian, RC Cluster, Cheeky Pea
Kitchen:
Hair: DP YumYum – 78AHF – Brown
Necklace: Mai Bilavio – Initial Pendant W
Top: RKKN – Tay's Sweater
Bottom: Coco Designs – Ripped Crop Jeans – Blue
Pose: FoxCity – Taxi
Items: Schultz Bros, MadPea, Second Spaces, Floorplan
HotTub:
Hair: DP YumYum – 78BHF – Brown
Top: Tee*fy – Ashley Top – i<3
Bottom: Blueberry – Jimena – Denim Shorts
Shoes: Tetra – Air Sneakers – White
Pose: Hopscotch (modified)
Items: Roost, Omg it's.., Studio Skye, Botanical, Half-Deer, Heart Garden Center, Tres Blah.
Moving:
Hair: DP YumYum – 78BHF – Brown
Top: Tee*fy  – Ashley Top – i<3
Bottom: Blueberry – Jimena – Denim Shorts
Shoes: Tetra – Air Sneakers – White
Pose: Everglow (modified/no longer available)
Items: Fancy Decor, Hive, RC Cluster, Studio Skye, What Next, Heart Garden Center
Ya know, you're probably thinking right now, why is does that place have a slurl and not this place? Look, do you see all those stores? I didn't plan on having to slurl all of them. I certainly didn't think that out well when thinking ooh I can have an outfit change and take another photo. I haven't blogged in like 6 months so I'm rusty and over ambitious. But I assure you, all of the above stores can be found in search or marketplace, and if not there they're closed. I might feel guilty and come back and populate them more but search is right there.